In 2007 I published a memoir, The Eiger Obsession: Facing the Mountain That Killed My Father. The book is a portrait of our family's life in Europe—and in particular in the Swiss village of Leysin—and the abrupt changes that came in 1966 when Dad died on the Eiger. Mom moved the family to a new life in America, but Dad and the Eiger cast shadows over me until finally I climbed the mountain for myself in 2005.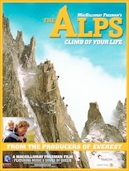 Here on my website
you'll find a photo album containing many more pictures than would fit into the book.
My own climb of the Eiger was turned into a beautiful IMAX film by
MacGillivray Freeman Films
. While The Alps: Climb of Your Life has mostly finished its theater run, a DVD version is available. Find interviews and trailers
here
on
MFF's website
(
the longer, 90-second trailer is better
).            
    The Eiger Obsession was published in English in 2007 and in German, French, and Italian during the following two years. You'll find links to each publisher at the bottom of Harlin Bio.

Until July 2012, my day job was to edit the American Alpine Journal in collaboration with an amazing set of colleagues and new-route climbers from around the world. This annual book of the world's new mountain routes (except, ironically, in the Alps) has been published by the American Alpine Club since 1929. It's the world's permanent record of mountain exploration—as reported by new-route climbers in their own words—and now you can buy recent editions and country-based compilations at the American Alpine Club Bookstore on John Harlin Media.

   You'll find more info about me at my bio page. You can reach me at john at johnharlin dot com. I try to be good at responding, but if you've not heard back from me after a while, please write again.